I'm a survivor. Life has been about overcoming disasters and discovering new opportunities.
In my mid-20s, my fiancé of six years was killed in a car crash. I had to pick myself up and find a new direction. The Royal Navy was the answer for a superb career of over 20 years: one of eight women Commanders, first woman naval barrister, international travel and making changes to the lives of thousands. Just fabulous until I lost my sight.
Blindness ended my military ambitions. Time to re-group and find new fulfilment in the civilian world. Unashamedly optimistic, I created Disability Dynamics to help other disabled people to get back to work. – excerpt from pennymelvillebrown.com
Connect with Penny Melville-Brown
Penny Melville-Brown on M4G Advocacy Media
Books By Penny Melville-Brown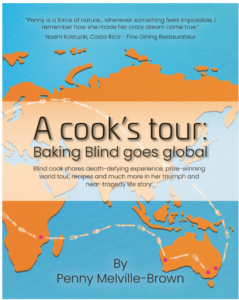 A Cook's Tour: Baking Blind Goes Global
Penny's cooking collaborators share over 100 authentic global recipes from Michelin-style perfection to simple home basics with links to over 50 on-line cooking demonstrations. She shows how ingredients and recipes have travelled too: the maize of Creole grits and Malawian nsima; the Chinese seagrass in Californian desserts; choux pastry that failed in Tamarindo but starred in Melbourne: irrepressible Victoria sponges that sprang up in Costa Rica, Chongqing and Hampshire – food-without-borders.
Most importantly, cooking together brought people together regardless of their differences: experiencing life with blindness and disability in China and America; surviving bullying and persecution in Australia and Malawi; being undaunted by difference in Costa Rica and the UK; battling for equality worldwide.
Even a simple cook's tour was full of drama. Penny narrowly avoided being stranded in San Jose by Hurricane Nate, rescue surfers and helicopters saved her videographer/nephew Toby from drowning near Kiama, she nearly died in a car crash in Angers.
These personal stories reveal the hidden strength that underpins life.