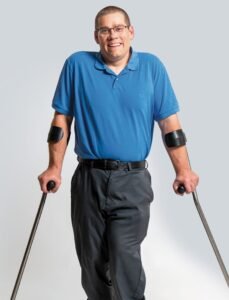 Cort is a dedicated, enthusiastic and passionate educator who has an extensive teaching and experience in Disability Services at the college level. In addition, has leadership experience and history of serving students in multiple capacities at the university level. Deep understanding of higher education policy, cultural diversity, and the role of community college in higher education. Has experience implementing multiple college wide initiatives. Solid academic background including Ph.D. and M.Ed. in Cultural Studies in Education, a M.A. in History, B.S. in Communications and B.A. in History. Published scholar in the field of education who is experienced in multiple research methodologies. – excerpt from
Cort's LinkedIn page
Connect with Cort Schneider
Cort Schneider on M4G Advocacy Media
The Trial of Miles
Many people who see Cort Schneider running, stare at him as though he is a unicorn. Cort was born with cerebral palsy, and as a result, he runs using forearm crutches. Many have trouble comprehending why someone who needs crutches to walk, would choose to run on purpose. The Trial of Miles explores how running helped shape Cort's identity as a person with a disability. His journey as a runner transformed him from a child who hated his disability to a disability rights advocate and scholar whose acceptance of his disability also enabled him to become a husband and father.
Running for Normalcy
Many individuals with disabilities develop low self-esteem because they regularly encounter a culture that devalues their disabilities. In fact, many resent their disabilities, and reject the idea that their disability is an important part of their identity. In this book, Dr. Cort Schneider utilizes an autoethnographic method of inquiry in order to illustrate his own struggle with his identity as a person with a disability. This book explores his transformation from a person who rejected his disability to a person that now openly embraces it. Dr. Schneider also explores the complex nature of identity development as it relates to those who have disabilities. Chapter One introduces the topic of identity and disability. Chapter Two explains the concept of autoethnography. Chapter Three explains Dr. Schneider's struggle with identity. Chapter Four examines the contradictions that are often present in the process of identity development. Chapter Five explores the impact that relationships can have on one's identity. Chapter Six discusses the role that public discourse plays in issues of identity. Chapter Seven explores the implications of the research that is presented in this book.